Sunday, December 19, 2010
Kayleigh is 34 months old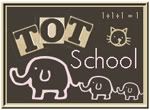 Once again, planned Tot School was non-existent. Anything that we've done has been on the fly and totally by chance. This season is just too busy. I even gave up on fourth grade a week early. LOL I haven't even got out our Christmas sensory bin yet. Gasp!
Last weekend we went to visit my father in NC. It was rainy and cold so we didn't do much besides hang out. Although Grandpa did drag us out in the rain to see what was going on in his small town.
One of Kayleigh's favorite Christmas activities is riding her "Cwismis stick."
We continued with our Advent traditions.
Made cookies and candy
Played in some unexpected snow.
She played with her
Christmas Story Blocks
and our
Fisher-Price Little People Nativity
. I like how she had the dinosaurs worshipping Jesus. lol She was very proud of that.
We also read a lot of Christmas books and watched some seasonal movies. No pictures of that though.
Be sure to check out what the other tots have been up to by clicking the Tot School button at the top of the page.
Our life as a homeschooling family of two giggly girls.
View my complete profile

Upcoming Reviews
**May 24**
**June 5**
**June 17**

19 months
20 months
21 months
23 months
24 months
25 months
26 months
27 months
28 months
29 months
3.75 years old
30 months
31 months
32 months
33 months
34 months
35 months
36 months
37 months
38 months
39 months
3rd Grade
4 years old
40 months
40 months. Letter U
41 months
42 months
43 months
44 months
45 months
4th
4th grade
5th Grade
6th grade
Aa
Advent
All About Reading
Apologia
art
Art for Homeschool
artist study
Australia
B
bad weather
basketball
Before Five in a Row
Bible
birthday
Blog Cruise
Blog Hop
Blogging through the Alphabet
BookSneeze
carnival of homeschooling
Chasing Picture Perfection
Christmas
circle
composer study
contests
curriculum
Curriculum Planning
D
Deals
December Daily
digital scrapbooking
digital scrapping
electives
Embrace the Camera
fall
family
Ff
field trip
Fifth Grade
First Day
Fourth of July
friends
geography
give away
Guam
History
history pockets
Holidays
Homeschool Classroom
homeschool mother's journal
homeschooling
husband
insects
iPad
Juvenile Fiction
Kayleigh
Kevin
kids
L.E.N.S. Photo Challenge
Language Arts
lapbooks
Latin
Learning with Love
letter S
Life of Fred
Literacy
Little Gym
Mackenzie
math
military
missions
Molly Crew
Muffin Tin Monday
music
My Life in Pictures
not-back-to-school blog hop
Oo
P-Dub
photography
piano
Pp
preschool
printables
Project Life
Raising Rockstars
reports
Review
Reviews
School Room
science
sensory bin
sensory bins Kayleigh
shapes
sixth
sixth grade
soccer
Sonlight
Summer
T1 Diabetes
testing
The Arts
The Homeschool Village
Timberdoodle
TOS Review Crew
tot book/pack
Tot School
Tot Trays
Ultimate Blog Party
vid
video
Virtual Refrigerator
weekly wrap-up
What Not to Say
winter
Winter Promise
Writing